Platinum already has a strong presence in Japan, holding a 92% share of the engagement ring market and 82% share of the wedding ring market.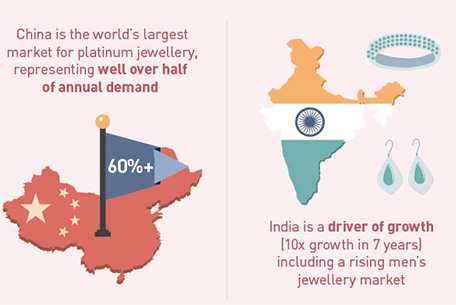 Strong results for platinum in the bridal sector are also mirrored in the West. In 2017, the US posted its fifth consecutive year of growth in platinum jewellery consumption (up 11% year on year). This trend is set to continue with the increase coming mainly from strong sales in bridal jewellery, including engagement rings and wedding bands.
A long-term driver of demand
Jewellery accounts for 32% of platinum demand globally and, in 2018, further growth is expected as a result of the PGI's ongoing initiative, in the US, to promote the use of platinum crowns that hold diamonds more securely. The guild is also running a number of collaborative marketing campaigns in new segments and towards new demographics.
Alongside platinum's role as the premier precious metal, it is also an in-demand industrial commodity with broad uses across the medical, manufacturing and automotive sectors. Platinum is also increasingly being viewed as a precious investment asset with demonstrable diversification benefits in a private portfolio or pension plan.
Investors seeking exposure to this premier precious metal have a broad range of options to consider including online bullion accounts, physical bars and coins, and exchange-traded funds.
• For more information on why platinum is the choice for weddings, visit: www.platinumguild.com.
• The Platinum Jewellery Business Review is available for download from the PGI's website.