Next-generation HDDs use platinum
MAMR and HAMR are intended to help secure HDDs as the primary data storage device in the future, particularly for use in data centres (e.g. cloud and cold storage), by increasing capacity potential and maintaining the HDD's cost advantage over solid-state drives, the principal rival technology.
Supported by MAMR and HAMR, HDDs are forecast to account for most of this additional capacity, they will still comprise more than 80% of all enterprise storage capacity shipped in 2025. Overall, HDDs are predicted to account for almost 60% of the extra data capacity required worldwide, equivalent to 11zb.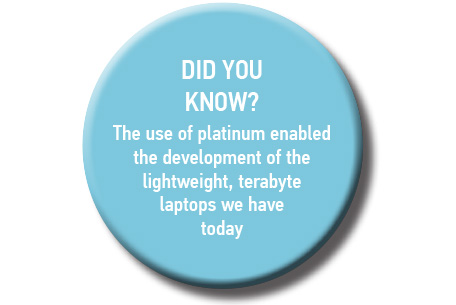 Data centres typically use higher capacity enterprise HDDs, which contain much greater quantities of platinum than standard laptop drives. Therefore, growth in enterprise storage (data centre) capacity is likely to be positive for platinum demand.
The breadth of platinum's industrial applications continues to grow. The metal is also increasingly being recognised as an effective investment asset, delivering demonstrable diversification benefits in a private portfolio or pension plan.
Investors seeking exposure to this premier precious metal have a broad range of options to consider including online bullion accounts, physical bars and coins, and exchange-traded funds.