Via the online platform, private investors can access the most up-to-date and competitive platinum prices and trade 24 hours a day, 365 days a year, exclusive of VAT. Starting with as little as GBP20, investors can buy platinum in any quantity they wish, and take advantage of low annual management and storage fees.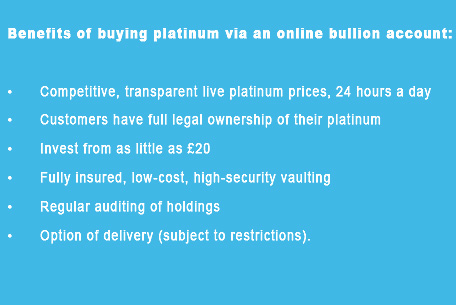 The 'Good Delivery' guarantee
Since online platforms were introduced, tens of thousands of ounces of platinum have been purchased in this way by investors looking to complement private portfolios or pension plans.
Both BullionVault and the Royal Mint also provide quality-assured platinum that meets the industry-approved 'Good Delivery' standards for purity and size. These standards are set out by the London Bullion Market Association, and refineries must produce bullion to these standards in order to be featured on the Good Delivery list.
Investors purchasing Good Delivery platinum via online bullion accounts will own professionally approved and refined, high-quality platinum bars as traded – and trusted – by the banks and trading houses that form the international professional bullion market.
For more information on opening an online bullion account, visit: