In a laptop computer, for example, platinum not only forms part of the hard drive, it is also used to make the glass components of the device. Similarly, platinum is used to make the glass in a range of applications including watch faces and flat-screen TVs. It is also present in the process of refining oil, and in the manufacturing of many other items upon which humanity depends, such as fertilisers to grow food. Further, as one of the least reactive metals on earth and highly compatible with the human body, platinum is widely used in medicine, particularly for in-body devices such as pacemakers, joint implants and in the treatment of cancer.
Platinum as an investment
Despite its varied and growing range of uses, platinum is currently undervalued relative to its past, its production cost and to gold.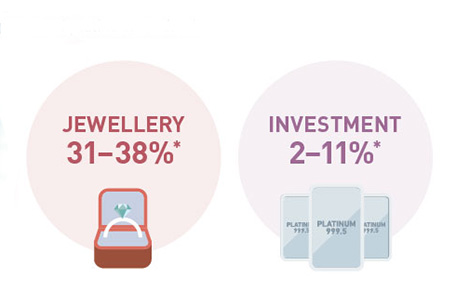 Supply is likely to remain constrained, and the implied disconnect between its present price and its fundamentals make a strong case for platinum as a long-term investment asset. With its capacity to act as an effective investment asset in a private portfolio or pension plan, platinum can also deliver many of the same diversification benefits as gold.
Platinum investment products are available globally in a range of easy-to-access forms: physical platinum in the form of bars and coins, online bullion accounts which hold the metal in secure vaults, and physically backed exchange-traded funds.
* Minimum and maximum ranges over period 2012-2016