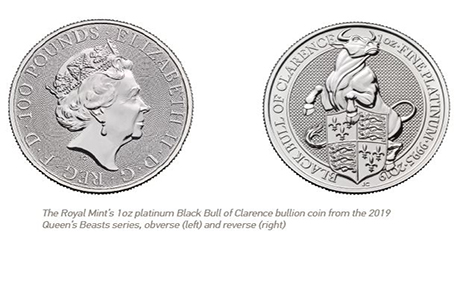 Platinum proof coins can be purchased directly by the public from the US Mint, whereas platinum bullion coins can be obtained by the public from authorised dealers. All American Eagle platinum coins are legal tender – hence their US$100 face value - and backed by the US Mint for weight, content and purity, giving purchasers peace of mind as to the authenticity of their investment. The coins' nominal face value does not equate to their precious metal value - in point of fact, the 1 oz gold American Eagle bullion coin has a face value of US$50.
Wider platinum coin resurgence
Elsewhere, platinum bullion coins are also enjoying a surge in interest. The UK's Royal Mint entered the platinum bullion coin market for the first time in 2017, and in 2018 it achieved more than 30,000 oz of platinum coin sales following the launch of its classic 1 oz Britannia coin struck in platinum. Early indications are that this positive performance has continued into the first few months of 2019.
Platinum bullion coins are attractive to UK investors seeking portfolio diversification as well as a long-term store of value. There can be tax benefits too, as sales of legal tender platinum bullion coins are not subject to capital gains tax in the UK, for UK residents.
China will see the issue of the first platinum coin for 14 years later this month. China Gold is launching a 1/10 oz platinum coin with a 20,000 mintage to commemorate Beijing's role as host city to the 2019 International Horticultural Expo.