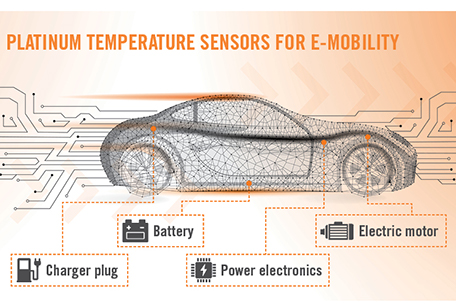 High-performance power electronic modules which control the energy distribution and energy management in electric vehicles also contain platinum sensors for additional safety.
The IoT is also heralding the era of 'cognitive manufacturing' which will see sensors playing a key role as big data, predictive analytics and robotics combine to created connected, intelligent assets with cognitive capabilities. The benefits include improved efficiency, less maintenance and reduced costs. Here, platinum thin film technology is being used in multifunction sensors.
Elsewhere, platinum has been shown to be useful in sensors for the ultra-sensitive and fast electrical detection of chemicals. Researchers have used the sensitive chemical-to-electrical transduction capability of atomically thin platinum to detect toxic gases at the parts-per-billion level. Although at an early stage, it is thought that sensors like this could be used in applications aimed at monitoring air-quality.
Looking ahead, the need for new sensors, which make devices safe, workable and accurate, is only likely to increase as we move closer to turning quantum technologies into products that revolutionise our world, like driverless cars. The sensitivity of quantum states can be harnessed by sensors, because they can be used to detect light, gravity and magnetic fields.