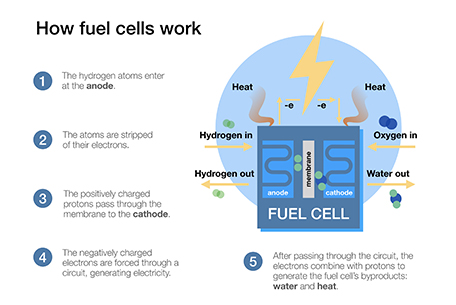 Platinum the enabler
Platinum sits in the sweet spot for facilitating the hydrogen economy due to its use in not only generating green hydrogen, but also in fuel cells for fuel cell electric vehicles (FCEVs). FCEV growth in the US is currently being led by heavy-duty vehicle applications in ports and for road haulage. This builds on growth from fleet vehicles such as forklifts, with passenger cars a longer-term prospect – although there are already around 8,000 passenger FCEVs and 44 hydrogen refuelling stations in the state of California, which has taken a lead on decarbonisation.
As the hydrogen economy and the FCEV market grows in the US and elsewhere, it will create significant demand for platinum in the medium-term. In the EU and China alone it is estimated that green hydrogen production will require between 300 koz and 600 koz of platinum by 2030; the US's decarbonisation goals and concomitant growth in green hydrogen projects will only add to these volumes. These developments increase the certainty of a hydrogen future, a factor which has driven significantly more investor interest in, and ownership of, platinum since 2019.
*Produced by a coalition of companies from the energy, transportation, fuel cell manufacturing and electric power industries with analytical support provided by McKinsey & Company