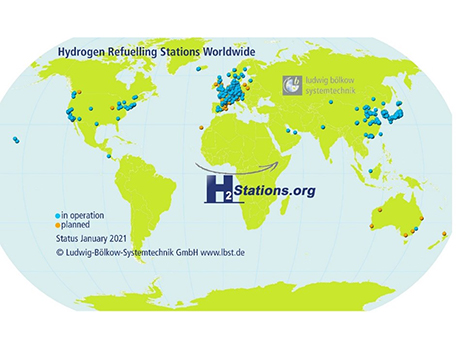 Also in North America, PowerTap, a leader in on-site hydrogen production and refuelling, is planning to create a minimum of 500 refuelling stations to provide hydrogen for mainly fuel cell electric vehicle (FCEV) trucks in the next three to five years.
Platinum demand growth from FCEVs
Platinum is used as a catalyst in hydrogen fuel cell applications as it enables the reactions between hydrogen and oxygen that take place to occur at an optimal rate, while being stable enough to withstand the complex chemical environment within a fuel cell, performing efficiently over the long-term. Platinum-based fuel cells are particularly well suited to vehicle applications, as their ability to tolerate rapid changes in load and their high electrical current density ensure they are small enough, yet able to meet the power requirements of cars and trucks.
Platinum in FCEVs is a growing demand sector for platinum, with wider adoption dependent on the availability of an accessible refuelling network. FCEV growth is coming predominantly from the heavy-duty sector, especially in the near term, with passenger vehicle growth likely to follow in the longer term.