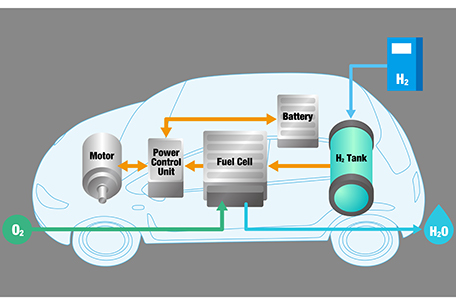 The fuel cell alone generates up to 125 kW of electric output from the chemical reaction between the hydrogen in the vehicle's storage tanks and oxygen in the ambient air. Its hydrogen storage tanks are both weight- and space-optimised, with the capacity to carry enough fuel to ensure a long vehicle range regardless of weather conditions. BMW aims to offer a wide line-up of hydrogen-powered FCEVs by 2030.
Range and refuelling benefits
In a FCEV, the PEM fuel cell system is comprised of a fuel cell stack that converts chemical energy to electrical energy to produce electrical power using a platinum catalyst, with water and heat as the only by-products. FCEVs produce zero tail pipe emissions and, when fuelled by hydrogen produced from renewable sources, they offer a form of transport that is totally fossil-fuel free.
FCEVs refuel quickly, in a way that is similar to gasoline or diesel vehicles, and make for excellent passenger vehicles because they can travel 300-400 miles on a single tank. What is more, power output does not reduce when the weather is cold, a major consideration in regions that experience harsh winters.