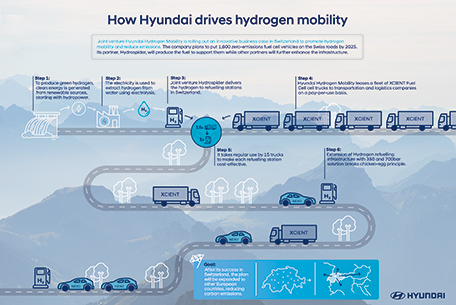 It is not only government initiatives that are shaping and developing the market for hydrogen mobility solutions. Hyundai Motor Company has been at the forefront of a private sector project which is making a major contribution to Switzerland's decarbonisation efforts in the heavy-duty transport industry.
Hyundai Hydrogen Mobility was established in April 2019 as a joint venture between Hyundai Motor Company and H2 Energy AG. Its main business activity is renting out emission-free hydrogen FCEVs to commercial customers, using the Hyundai XCIENT Fuel Cell heavy-duty truck, with the aim of creating an integrated hydrogen eco-system in Switzerland and its neighbouring European countries. Effectively, Hyundai and its partners have developed a new business model encompassing hydrogen-powered trucks, hydrogen refuelling stations and hydrogen production and shipping. Furthermore, by producing green hydrogen, which also uses platinum-based PEM technology, from renewable energies such as hydro, solar and wind, the project has tangibly boosted both the supply of and demand for this zero-emissions fuel.
Hyundai Hydrogen Mobility started with 50 units of Hyundai XCIENT Fuel Cell trucks, with another 140 vehicles due to come on board by the end of this year. The plan is to have 1,600 XCIENT units in operation by 2025 and the business is also working on the introduction of XCIENT Fuel Cell trucks in other European markets.