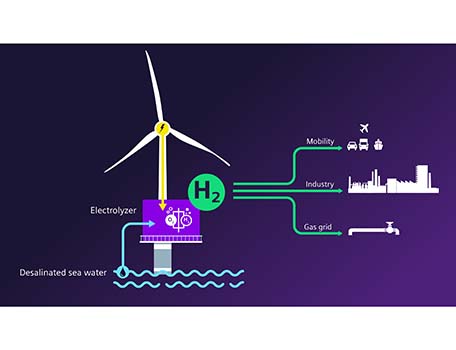 PEM electrolyser technology is used across these wind-to-hydrogen projects as it is especially suited to the intermittent nature of renewable energy due to the following characteristics: high efficiency at high power density; high product gas quality, even at partial load; and low maintenance and reliable operation.
Lowering green hydrogen production costs
With the wind-to-hydrogen approach, the value of the offshore wind power is increased as regions with abundant offshore wind become directly accessible for the production of green hydrogen, without the additional conversion costs of having to first carry the electricity generated back to shore. Meanwhile, the wind provides infinite, free energy that generates the electricity needed by the electrolyser to produce green hydrogen at source.
This model confers a further benefit in as much as the hydrogen generated can then be transported via pipeline, offering economic advantages over the High Voltage Direct Current transmission systems that would otherwise be required; a pipeline is a far more cost-effective option for transporting large volumes of energy over long distances.
Over time, it is envisaged that the wind-to-hydrogen solution could transform offshore energy production, allowing the off-grid production of low-cost green hydrogen at scale. Even greater potential exists for a floating wind turbine market to leverage the faster wind speeds found even further offshore.