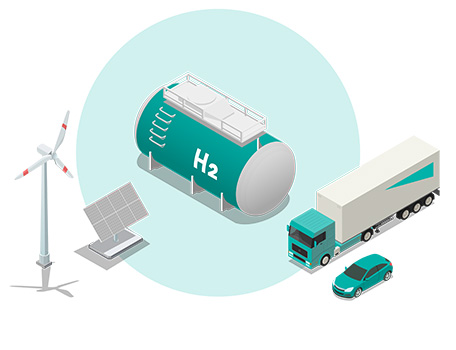 Distributed energy and storage
Elsewhere, green hydrogen generation and storage is being twinned with stationary hydrogen fuel cells to support the roll-out of charging infrastructure for battery electric vehicles (BEVs), overcoming the problem of grid power capacity constraints by providing distributed energy and storage systems. PEM technology business Plug Power has recently unveiled a new high-power stationary hydrogen fuel cell system for charging commercial BEV fleets, such as delivery vans, and rental car companies.
It estimates that by 2030 there will be an estimated 48 million BEVs on the road in the US, of which 10 per cent will comprise fleet vehicles, which often need to be recharged at a specific location in large numbers at any one time, requiring a significant increase in power from the grid. Under Plug Power's proposal, its high-power stationary hydrogen fuel cell can be used in combination with its green hydrogen network to produce zero emissions power where and when it's needed.