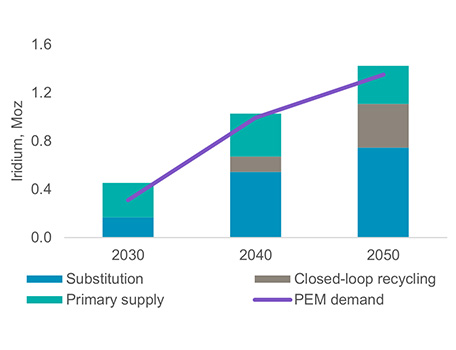 Economic factors drive substitution decisions, and the iridium price has outperformed other PGMs over the past three years. The automotive (i.e. spark plugs) and electronic (i.e. crucibles) sectors are reportedly already substituting some iridium. Cumulatively, WPIC estimates 20 per cent of existing iridium demand will be substituted by 2030 and 30 per cent by 2040, freeing up annual iridium supply of between 45 koz and 67 koz over the next decade.
Thrifting – reducing the loading of iridium needed per gigawatt in a PEM electrolyser – is already underway and 100 kg per gigawatt catalysts are close to coming to market. Johnson Matthey believes 80 kg per gigawatt loadings are feasible by 2030 and Heraeus cites that the next generation of technologies is targeting further reduction of iridium loadings to 30 kg per gigawatt by 2050.
The emphasis on increasing circularity in manufacturing processes and supply chains, with particular regard to the 'end of life' product stage by ensuring re-use and recycling of materials wherever possible, is growing. For example, the US's clean hydrogen roadmap targets a 99 per cent recycling rate of PGMs within electrolysers by the 2030s.