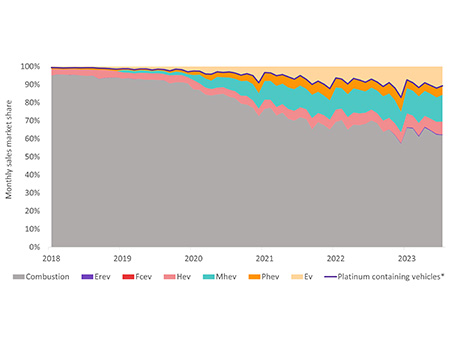 Automotive demand for platinum in China during the quarter surged by 60 per cent. This was largely attributable to the implementation of China IV for non-road vehicles, as well as the HDV segment, where output recovered by 64 per cent, while LDV production grew by 17 per cent. In addition, the full implementation of China VIb, which came into force on 1 July 2023, has had an impact. These emissions regulations have seen China ban the production, import and sales of trucks and buses that fail to meet the new standard, despite some attempts to delay the implementation to 2024. A fourth factor that strengthened Chinese platinum demand was the increased substitution of platinum for palladium in exhaust treatment systems.
Japan's LDV production of petrol and diesel cars increased by 20 per cent compared to the same quarter in 2022, which was heavily impacted by semiconductor shortages. Meanwhile HDV production rose by a more moderate six per cent. These higher production rates supported a 29 per cent year-on-year increase in platinum automotive demand.
Elsewhere, production also improved by 11 per cent year-on-year, resulting in a further lift in platinum demand.