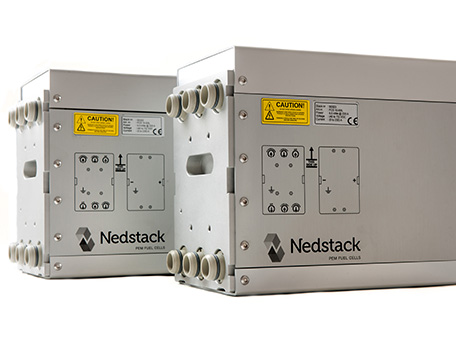 Global logistics company Samskip has turned to 3.2-megawatt PEM fuel cells for its two new hydrogen-fuelled container vessels, which will be among the first of their kind. Both 135-metre ships vessels will operate between Oslo Fjord and Rotterdam, a distance of approximately 700 nautical miles, and are due for delivery in the second half of 2025.
In May, a trial of the world's first hydrogen-powered inland containership took place successfully, equipped with a PEM fuel-cell system from Nedstack. Carrying products from sports brand Nike, the vessel will operate between the Netherlands' Port of Rotterdam and Benelux's largest inland container terminal located along the Albert Canal, Meerhout, Belgium.
Meanwhile Ballard Power Systems are providing PEM fuel cells for the first hydrogen-hybrid research vessel in the world, a pioneering project marking a significant shift towards sustainable and zero-emission marine research. The vessel, currently in the design phase, will be owned and operated by UC San Diego's Scripps Institution of Oceanography. Its design will enable the ship to operate 75 per cent of its missions entirely using hydrogen, with diesel generators providing extra power for longer missions.