What is more, platinum is at the forefront of two key technologies that are unlocking the rapidly expanding, zero-emissions hydrogen economy – fuel cells and electrolysers. At the same time, it remains key to the automotive industry, reducing emissions from internal combustion engine vehicles.
Indeed, platinum is currently growing its share of the autocatalyst market as it continues to substitute for significantly more expensive palladium in gasoline engine vehicles on a one-to-one basis.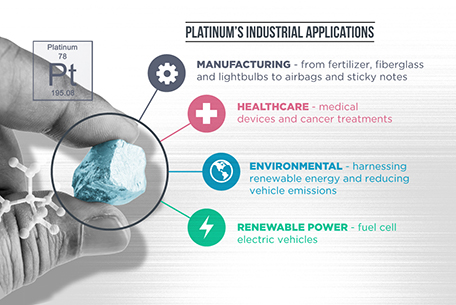 Upside from economic recovery
Investors, familiar with platinum's strong correlation to gold, are becoming more aware of the significance of platinum's industrial credentials, which are providing upside as the global economy recovers from the effects of the pandemic.
Coupled with its strong demand growth potential from the automotive and hydrogen sectors, more and more investors are viewing platinum's current discount to its peers – both precious and industrial – as an investment opportunity.