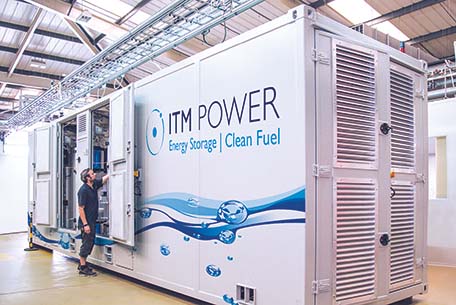 Platinum across both leading electrolyser technologies
However, no single electrolyser technology performs better across all applications and, in all likelihood, the future technology mix will see the deployment of both PEM and alkaline electrolysers as the market expands. It is therefore especially interesting to note that platinum catalysts for use in alkaline electrolysers are currently under development.
The Hydrogen Council believes that annual demand for hydrogen could rise from about 90 million metric tons (MT) today to 140 MT in 2030, with green hydrogen having a 20 per cent share – compared to less than one per cent today. Supplying the almost 30 MT of green hydrogen that this growth would require necessitates the build-out of over 250 gigawatts of electrolyser capacity before the end of the decade. Looking further ahead to 2050, it is estimated three to four terawatts of electrolysis capacity will be required to meet demand for green hydrogen.
While the platinum needed to produce green hydrogen is gradually increasing in line with the expansion of electrolyser capacity, electrolysers use relatively small amounts of platinum and are built to last, meaning infrequent replacement. Cumulatively, over the next 15 years, platinum demand from electrolysers is likely to be between one and two million ounces, dependent on technology development over that period and including the volume of platinum that could potentially be used in alkaline electrolysers.
*Hydrogen for Net-Zero, Hydrogen Council, November 2021