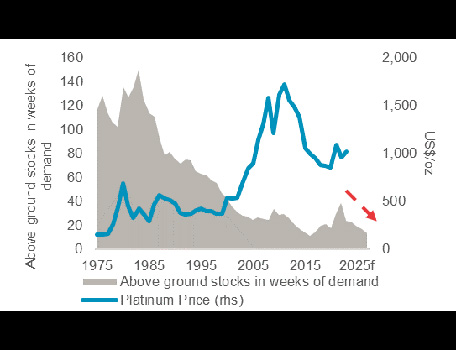 In the case of platinum, the likelihood of a supply response to higher prices is extremely low. South African mine supply is subject to long lead-times for new production and is currently facing operational challenges due to electricity shortages. In addition, supply from Russia, unlikely to respond to higher prices because it is produced as a by-product of nickel mining, has downside risk due to mine equipment and technology-related sanctions resulting from Russia's invasion of Ukraine. Furthermore, as platinum is mined from polymetallic deposits containing other platinum group metals and base metals, there is a limited ability to flex production based upon the pricing of any one individual commodity.
Positive price response
The platinum price has responded positively to meaningful deficits in the past. It will be interesting to observe its response to ongoing market tightness as the current scenario unfolds, especially should security-of-supply concerns materialise, prompting end-users to add to buffer inventories, further adding to the platinum shortage.