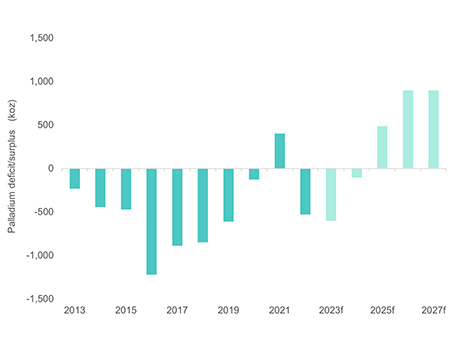 Reverse substitution
Since 2017, when the palladium price began to exceed the platinum price, price differentials and – more latterly – security of supply concerns have driven platinum-for-palladium substitution in emissions control systems. By the end of 2023, cumulative platinum-for-palladium substitution over the last five years will have reached an estimated 1,300 koz.
As platinum heads into a series of sustained market deficits from this year and palladium moves towards a series of market surpluses from 2025, WPIC anticipates an eventual closure of the platinum/palladium pricing differential. Consequently, it expects the trend of platinum-for-palladium substitution to slow, and eventually cease, with palladium-for-platinum 'reverse' substitution occurring from 2025.
The expected palladium-for-platinum reverse substitution will only be in small volumes initially as the substitution process is a lengthy one given it is almost always only conducted on new models and is then locked in for the lifetime of those models, typically seven years. It will therefore take a long time to even unwind the platinum for palladium substitution that is currently occurring and that is projected to peak in 2025. Even so, by 2027 WPIC forecasts palladium for platinum substitution to reach 366 koz, and to continue to grow thereafter.
Positively, this will liberate platinum supply to become available for the rapid growth in the hydrogen economy expected in the mid-to-late 2020s, alleviating concerns that platinum could prove to be a bottleneck in the development of the PEM technology that is key to the energy transition.