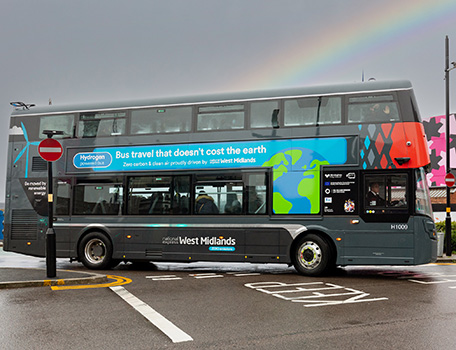 Growing number of hydrogen fuel cell buses
Europe and the UK are also seeing growing numbers of hydrogen fuel cell buses on their roads – there are currently well over 150 fuel cell buses in operation across the continent. Japan's Toyota Motor Corporation has demonstrated its commitment to this market in a collaboration with Portugal's CaetanoBus SA to build hydrogen fuel cell buses, using technology it developed for its Mirai passenger FCEV. The result is the H2.City Gold, which is already in operation in Copenhagen, Denmark as well as Madrid, Spain and Bielefeld, Germany.
In the UK, hydrogen-powered fuel cell buses are carrying passengers on the streets of the West Midlands for the first time since 20 hydrogen fuel cell double decker buses started service at the end of last year.
The hydrogen fuel cell bus sector in the US received a recent boost with the General Services Administration's (GSA) announcement that its new five-year transit bus programme includes hydrogen fuel cell buses for the first time. GSA provides centralised procurement for the federal government, overseeing approximately US$75 billion in annual contracts.